What Is AirSoft Anyway?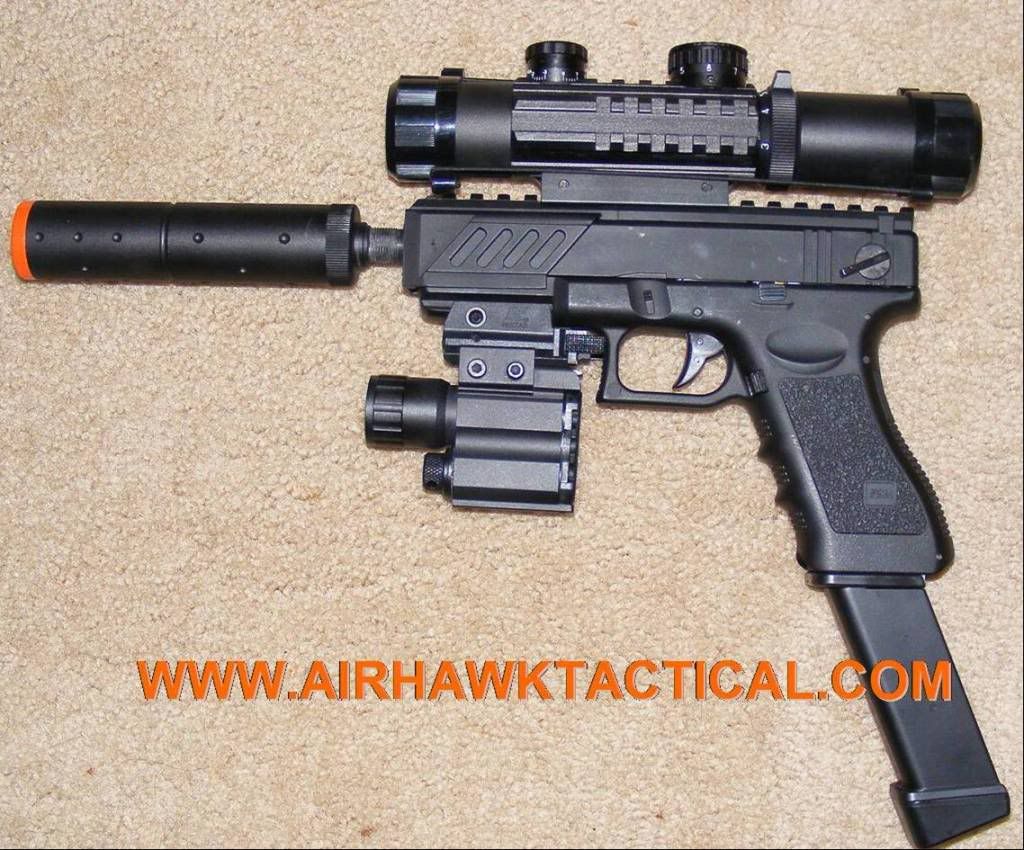 AirSoft is a shooting sport - that utilizes realistic 1:1 scale replica weapons to fire 6mm or 8mm plastic bb's by:
(1) Spring/Pneumatic or Bolt action,
(2) Electrical power via rechargable or disposable batteries or
(3) Gas/compressed air (CO2).

Also known as 'SoftAir', and the shooting sport most closely related to paintball. AirSoft weapons are typically easy to recoginize as they usually carry a bright Orange or Red tip on about a quarter inch of the muzzle. Plastic bb's can be propelled at low speeds of about 100 Feet Per Second (FPS) to upwards of 500 FPS for powerful versions, using varying weights of bb's from the low-grade starter .12gram, to .16g, .20g, .23g, .25g, .30g, and even higher.

Special Steel coated bb's, Glow-in-the-dark (tracer) bb's, paintball bb's, marker bb's and such are available for various tactical needs of players, but the most common bb's are .20gram bb's - which are expected to be highly polished, perfectly spherical, with no seams or creases, and are used to test the velocities of most weapons.

PLEASE NOTE: Under no condition whatsoever can AirSoft weapons be modified or enhanced to shoot or cycle real bullets like a real weapon. Any information or suggestion to the contrary is FALSE.







AIRSOFT AS A BONA FIDE SPORT

AirSoft has gained incredible ground as a popular sport around the world, especially in Asia, The USA, Canada, The United Kingdom, Europe and Australia - appealing to outdoor enthusiasts, paintball player converts, Military action simulators and WW reenactors, avid shooters and newbies alike.

There are several good reasons for this, and we call it THE AIRSOFT ADVANTAGE.

THE AIRSOFT ADVANTAGE:
AirSoft weapons and training techniques have been found (by beginners and professionals alike) to be more superior than other interractive target and shooting systems, for the following reasons:
(1) IT IS CHEAPER (MORE AFFORDABLE).
A typical Airsoft weapon will cost between $15 to $100 (for handguns) and $30 - $150 (for a rifle), depending on the operating platform. A pack of 2,000 rounds will cost about $6 (Six US Dollars).
Mask Goggle system about $25.
(A) Airsoft Weapon, Ready to Shoot (RTS) cost: Aprox $95 USD
A real pistol costs about $600, rifle about $1,200. Ammo costs for 2,000 live rounds will run about  $1,000 (One Thousand US Dollars). Hearing and eye protection about $60, Fees about $40
(B) Real Steel Weapon RTS Cost: Aprox $800 USD
A paintbal marker will cost about $99, Tank and air $80 - $120, Hopper Unit $25, Paintball marker balls (ammo) 2,000 quantity will run about $60 with outer casings another $40. Mask Goggle system about $40
(C) Paintball Weapon System RTS Cost: Aprox: $300 USD
Simunnition and Airmunnition training systems will require a real steel weapon about $1,200., a modification/conversion receiver about $800, specialized magazines about $200, and specialized ammo with 2,000 rounds costing about $1,400., and special combat safety gear (required) about $2,000 per individual!
(D) Simmunition/Airmmunition Weapon System RTS Cost: Aprox: $5,000. USD
2. PROVIDES BETTER TRAINING:
Because of the material and low relative muzzle energy, airsoft weapons allow Law enforcement, security and armed forces to conduct realistic, positive engagement FOF drills with their teams. This allows for repeated excercises in 'realsim', where blank, live or less lethal rounds will not produce good measurable training results without injury or fatalities. Operations can be rehearsed endlessly (even in CQB mode) at low cost until operatives are familiar with every aspect of the job.
3. AUTHENTICITY & COMPATIBILITY:
Airsoft weapons are 100% true to scale, 1:1 replicas of the world's most well known military and defensive handguns, rifles and ordnance. This means that they can fit comfortably in the users SERPA duty holster, other thermo plastic retention systems, vests, concealed holster etc. Most models will feature identical slide catch, mag release, bolts and safety levers, such as to allow for excellent, non lethal weapon drawing and reloading drills, without the user signing out his or her weapon from the armory whenever they wish to practice. Practical shooters know that knowing your weapon is the first step to mastering it, and your airsoft weapon is the safest way to do that.
4. LOW MAINTENANCE:
Airsoft weapons require very low maintenance. These include simple, periodic cleaning and lubing of the (smooth) bore, and some moving parts with a simple patch and oil, charging of batteries (where applicable), unloading and storage of weapon. Simple repairs caused by heavy use can be expected, as is the case of any tool or equipment, and repairs are usually below $100.
5. CLEANLINESS IS GOOD FOR YOU:
Airsoft uses no gunpowders, primers or volatile pyrotechnics in the system, and as such leave no GSR or projectile dust. It is not messy like paintball, and as such allows officers to use their duty uniforms and BDU's with no risk of paint, gum or marker powder stains to wash out. The plastic rounds leave no paint splatter, scratches, dents or ricochet marks on buildings, walls or vehicles.
6. AIRSOFT IS QUIETER. (SILENCE IS GOLDEN):
Training with AirSoft allows the user to experience gun handling without the loud and sometimes alarming report of a real gun. It is relatively quiet, with a full auto blast retaining about the same decibel report as a cordless drill. Semi auto, or single action shots sound about the same as tapping a wooden spoon on the table. This low noise effect is perfect for people who would like to enjoy shooting in their backyard, gym or game room without disturbing neighbors, or for security forces to train on their own properties without travelling to an extended range training ranch.
An added advantage is allowing the shooter to focus more on sight and target acquisition without the instinctive 'flinch' that most shooters have when anticipating the BANG! of a real weapon. 
7. AIRSOFT IS PORTABLE:
An airsoft range and backstop can be set up practically anywhere. Game room, hallway, backyard, break room, gym, even some large bathrooms or dining rooms. As long as there is a 10 – 15 foot length of unobstructed space, with a 3 – 4 foot wide 'lane' width, you have a range! Cardboard boxes with paper targets can form the backstop, and can easily be mounted to a wall, shelf or other flat panel, even the roof of a car, or suspended from a tree. If a gun rest or chrono station is desired, a small simple folding table can be placed in front of the shooter at the start of the shooting lane. It's that simple to set up and break down, usually in aproximately 5 minutes.
8. AIRSOFT IS SAFE & FUN:
Because airsoft bbs are made up of smooth plastic spheres with a low weight and impact, they are  100% NON LETHAL and completely safe, when basic safety guidelines are followed. Children as young as 12 years old and adults as old as 80 years - are avid players, simply following proper rules like wearing safety glasses/goggles, applying trigger discipline, and gun etiquette. Minimal welts or bruises are exerienced when shooters have exposed skin hit by bbs but there is absolutely no risk of a penetrating bullet wound, or extensive bleeding, unless point blank and reckless use is applied. ALSO PLEASE NOTE - AIRSOFT GUNS CANNOT UNDER ANY CIRCUMSTANCE, BE MODIFIED INTO BONA FIDE FIREARMS OR CAPABLE OF RELIABLY FIRING REAL BULLETS. Rest assured that any contrary data that you hear or receive about this matter is 100% false.
9. AIRSOFT IS LEGAL AND SIMPLE TO OWN:
Unlike real steel, Airsoft weapons (RIF's in the UK) can be purchased and shipped directly to any 18 year + old individual, at home or at a business address. It most often requires no license to own and can be transported securely in a gun bag without fear of law enforcement abuse. In certain jurisdctions, it is considered a dangerous item and is restricted, so know your local laws. Also, owning and using a RIF in the UK is subjetc to being registered in a database of Airsoft players. In the USA, where legal – you require no license to own, and can purchase as many and as often as you desire, with no waiting period longer than when your friendly mail person can get to you! For your protection, certain rules (like keeping the bright Orange tip when selling or shipping them) are still in effect, so they are not mistaken for real firearms by the public or by law enforcement officers.
10. AIRSOFT IS A RECOGNIZED, CREDIBLE SPORT & COMMUNITY:
Airsoft has caught up with paintball as a recognized sport, and has actually eclipsed it in terms of the appeal of a larger, more diverse and experienced community. Airsoft internet forums, tactical teams, user groups, reenactors, playing fields, military and 'scenario' games and competitions help to bring the user closer to other like-minded and nurturing individuals. This plays a key role in MENTORING efforts for newer shooters - that learn discipline and leadership from participating in the sport, as well as confidence-building in women and others who may not have taken to shooting real guns for safety and personal comfort concerns. The airsoft community is about safety and skill.  
It has strong credibility, as most AirSofters have active experience or interest in law enforcement, tactical and firearms training, military and reserve units, fire and EMS, martial arts and such.
A comparative look at AirSoft, Airguns, Paintball, Real Steel, Airmmunition/Simmunition, Laser Tag, Nerf Guns, Blowguns and more, is available as a separate publication.